Since I flew for the first time in 1999, a lot has changed. Flying is nothing special anymore, pure routine like riding a bus. You can eat at home, check-in online, stewards and stewardesses no longer need to smile and no one cares about safety instructions. It is understood that the pilot lands the aircraft safely. Applauding is embarrassing. In return, flying has become cheaper, much cheaper. Airlines massively cut down costs, also salaries. It is no surprise that nowadays along with a cheap flight ticket you can also book a trip to hell.
I'm not squeamish. I have already flown across the Atlantic with a close-to-lethal hangover and to Nepal with massive gastrointestinal problems. I never feared small airlines. I flew to Romania with the Hungarian Wizz Air, to the arctic circle with Finnair, to Riga with Air Baltic and to England with Ryan Air, the mother of cheap airlines. None of them I found too bad or even scary. The route Munich-Bishkek via Istanbul, I already flew several times, preferably with Turkish Airlines. Never had a problem. This time it was supposed to be only a short trip, just a week. So I chose the cheapest provider, Pegasus Airlines. The return trip to Kyrgyzstan's capital which is about 6,000 kilometers away (about as far as New York) costs only 350 euros. All in all, a great price, if it had stayed that way. In the end, the trip cost almost double including a huge portion of nerves.
Like Stephen King's Twilight Zone
The absence of free food does not bother me. Neither does the fact, that the staff generally doesn't like to have too much interaction with the passengers. The in-flight movies, however, I miss very much. Boredom I do not tolerate well and the two and a half hours  (with Pegasus three) from Munich to Istanbul already turned into eternity. If only I had taken a book. It is also a pity that we do not stop at the modern Ataturk airport but at the Sabhia Gokcen, named after an adoptive daughter of the famous President Ataturk, and the first Turkish female pilot. What would she say did she see the chaos produced in her name? Inside the transit area of ​​the Sabhia Gokcen Airport, I feel like in Stephen King's Twilight Zone.
The atmosphere is dark and morbid. It somehow reminds me of a quarantine camp during an Ebola outbreak. Besides weeping children and stressed adults, there are always such individuals, who seem to have come to terms with the misery. They stoically sit in a corner staring into the void. Good luck finding an electricity socket to charge the cell phone. They are hidden like treasures in the most inconvenient places. Airport staff is not going to tell, they don't want to spoil the quest. Free wifi you get only in combination with bad food at the restaurants. Of course, it is limited to an hour only. Theoretically, you may buy internet, however, but the system's credit card payment does not work properly. And so I sit in between the frustrated masses, waiting for my flight, stoically, staring into the void.
Faulty screens
To which gate I must go, I do not know. This gets decided shortly before the flight. So I keep looking at the screens. My smartphone, wifi-less, cannot set the time by itself. Therefore, I set it manually according to the time display of one of the monitors. In Turkey it is an hour later than at home. Wait, weren't that usually two hours? – "Well, maybe this has something to do with summer and winter time," I assume and continue my quest for electricity sockets. Finally, my gate gets displayed. I have another hour. Time for a quick smoke. After all, the transit area has an extra balcony for smoking. Maybe for calming people's nerves and preventing them from running amok.
I take a seat at the respective gate and look around. Hm, no Kyrgyz looking people around, also no airport staff. There seems to be nothing going on. I look at an airport clock. Suddenly, a rock slips into my stomach. It is 21:45, departure was at 21:15. I was sure that I had another half hour. I do not understand. Total time confusion. Twilight Zone. The next morning, I will find out that some airport screens display the wrong time. Unluckily, I picked the wrong one to adjust my phone.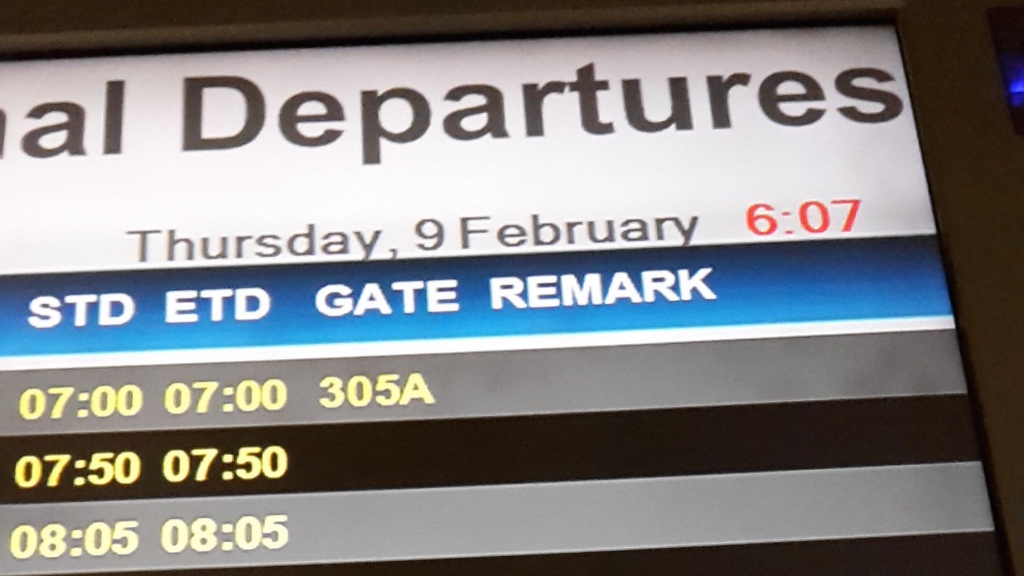 Photo taken at 6.07 am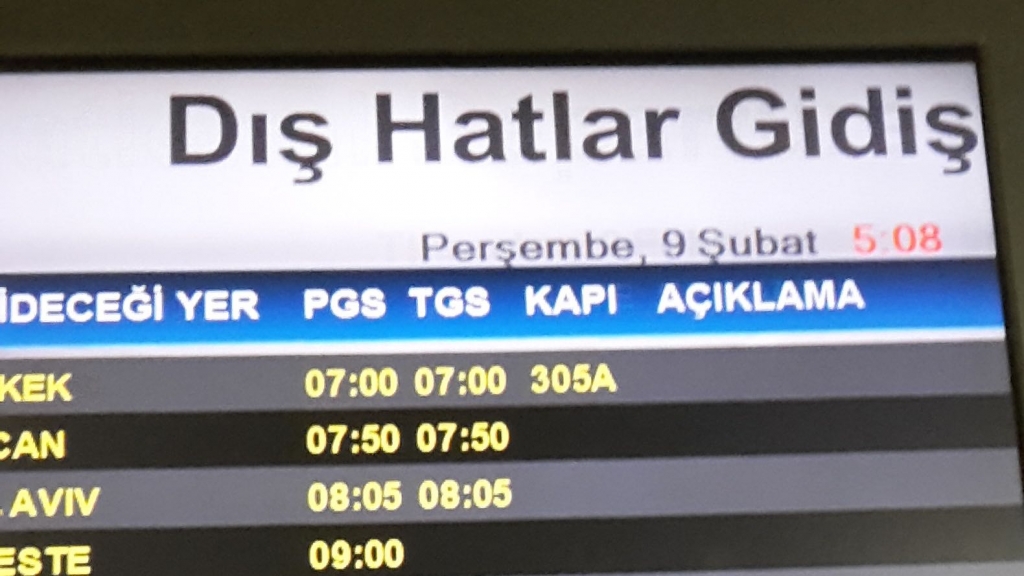 Photo taken at 6.08 am
In the evening, I still think I am suffering from the onset of dementia. In shock, I tug at a Pegasus employee's sleeve and confess my misery. Unfortunately, he doesn't have time to listen right away. A group of other passengers are just about to miss their flight to London, because passport control suffers from massive delays due to a computer error. The employee apologizes and offers the Englishmen a hotel room as well as a free substitute flight the next morning. Also to me he is quite nice since he does not have to take care of the problem. He sends me to his colleague in the transit area. A certain Mr. Oemer would certainly help me.
He yells at me as if I was a dog
First thing Mr. Oemer does, is inquiring about my nationality. As soon as he finds out that I'm German, he is relieved. I do not require a visa for entering Turkey. This just saved him work. I should go through the passport control and buy a new ticket at the Pegasus ticket office. However, at the passport control, a huge line had built up like a medieval lindworm. Oh, I remember: they are having problems with the computer system. Ahead of me lies the promise of waiting in line for several hours. I return to Mr. Oemer to inquire about alternatives, such as the possibility of online booking. Mr. Oemer is not keen on wasting his valuable time with discussions. Particularly, he seems disturbed by me undermining his authority. Obviously, he needs to take more drastic measures. With his forefinger he points towards the passport control and yells at me as if I was a dog: "Get in line now! You have nothing better to do, have you?!"
It's about midnight when I wander through an alomst empty Sabhia Gokcen airport in search of the Pegasus ticket office. Finally, I find a cabin with the airline's logo. It is empty. I wait, even after half an hour nobody appears. This is when I break down. A mixture of despair and rage makes me cry. Why couln't I have stayed in the transit area? I seek help and approach someone from the airport's security staff. I can hardly speak due to the sobbing. "Pegasus … office …" I stammer, almost choking. The tough guy is overrun by so much emotion. Quickly, he points me to the real Pegasus office, hidden in a dark airport corner. Thank God! Maybe I'm not stuck here forever.
200 euros extra charge
This Pegasus employee is friendly for a change, but she has bad news. To book me on the next flight to Bishkek costs 190 dollars extra, about 180 euros. Later, I saw that nearly 200 euros were debited from my credit card. At this point, I do not care about the fare, I just want to leave this horrible place. As soon as I hold the ticket in my hands, I am relieved … until I realize: I am stuck at an empty airport until morning. Check-in will start only five hours later, no point in booking a hotel room. Hence, the tedious wait continues. As opposed to the transit area, where everything is open 24/7, in the airport area, there are only two small cafés still serving. At the first one, a dull barista tells me that no alcohol is available at this hour. I almost start crying again. I really need a beer now. Luckily, the manager of the other café has mercy and pours me a cool Efes, a Turkish beer brand. The next few hours I pass the time bothering my friends at home using expensive data roaming.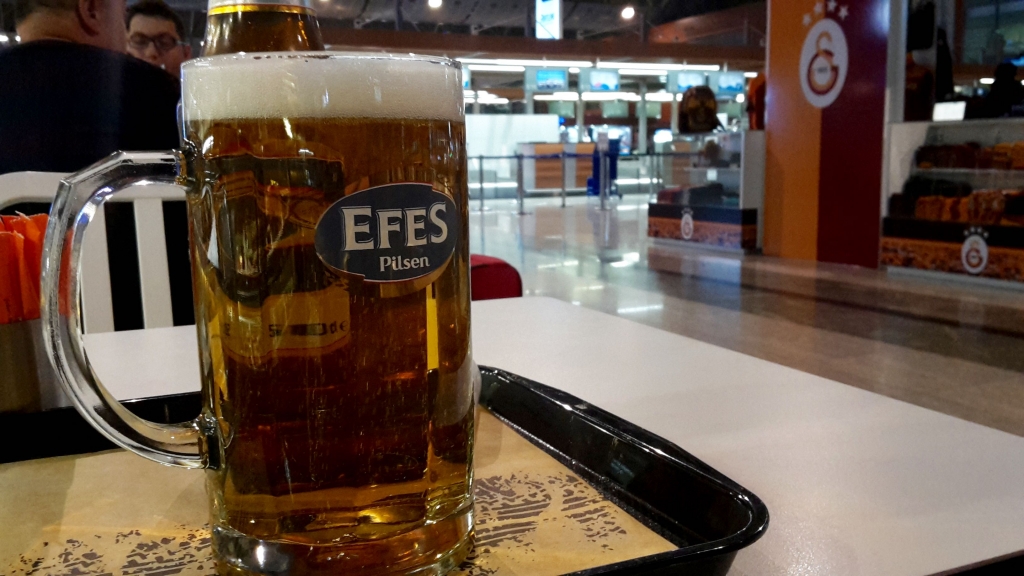 In the morning, for once, everything works fine. However, I do not get a wink of sleep on the uncomfortable, tiny plane that Pegasus chose for the almost six-hour flight to Bishkek. In contrast, the plane for the short distance flight from Munich to Istanbul was much more comfy. As soon as we land at Bishkek's Manas Airport, I'm ineffably happy. There is free, unlimited internet access and the friendly Kyrgyz airport staff hands over my luggage, which had arrived the evening before.
Too many flights leaving at the same time
The return flight I also nearly miss. The online check in does not work, because I got the wrong booking number. Before, I had only received confirmation for the outward flight, not for the return flight. I call the service hotline. They regret, they cannot help me. So I need to be at the airport early. The flight leaves at seven in the morning. To make sure that this time nothing goes wrong, I'm at the airport at three o'clock in the morning. Yeah, nice try. After a long wait, a sudden chaos breaks loose. Four flights are scheduled to leave at the same time, two of them for Pegasus Airlines. The check in counters only open two hours before take-off. In the beginning, I'm far ahead, but must leave the line to look for an ATM. I'm taking my cat with me to Germany. Several times I had called Pegasus to confirm that the cat is booked on the flight. "No worries, you can pay at the check in desk", they told me. No word that payment will be only accepted in cash. A fatal detail considering the situation. Without the help of my Kyrgyz friends, I probably would not have survived all this stress handling luggage as well as the cat basket. And it gets worse.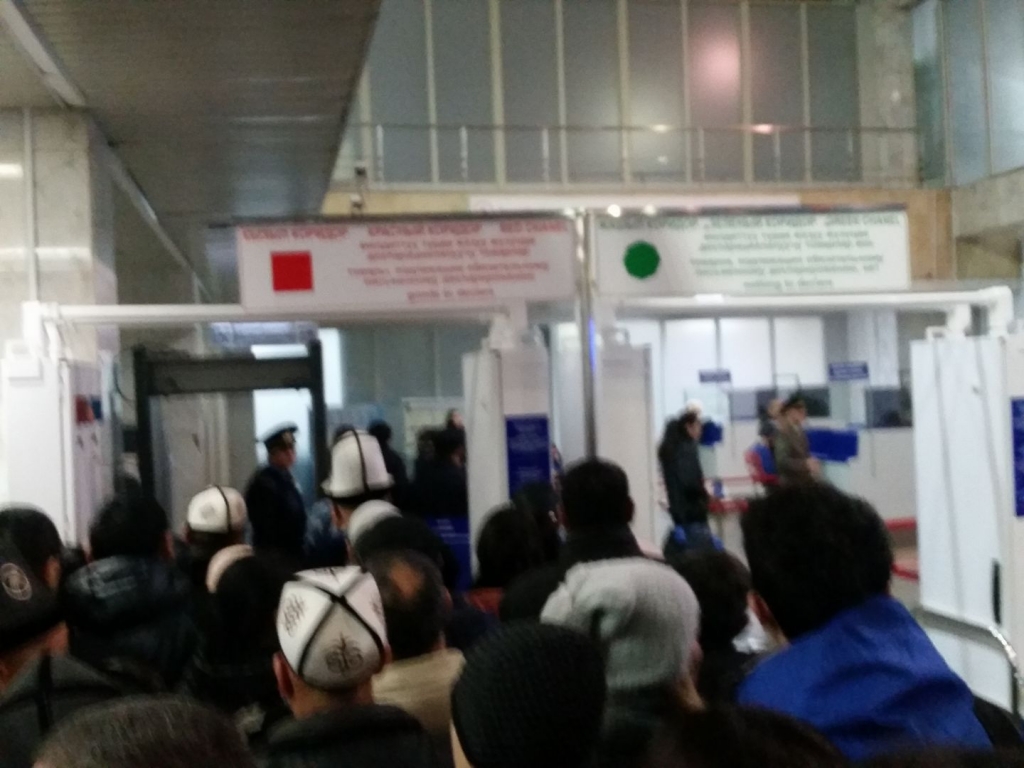 When I get back to the line, I'm stuck. People are jammed at the control points, only one door to the gate area is open, a tight bottleneck. The crowd is pushing towards it. Everyone is afraid to miss their flight.  In order for the cat to not get squeezed, I balance the basket on my head like an African water bearer. My arms ache. Even in this stressful situation some people keep their cool. Another passenger lets me pass. At the last minute, I get onto the plane.
Like a sub-Saharan country bus
The flight itself is just like I would imagine the journey in a sub-Saharan country bus. Children cry and run up and down the aisles. People are lying across the seats. My cat meows and tries to escape from her basket. I keep her on the lap the whole flight. Imagine going through this ordeal with a toddler. A steward, who promised to help and get me another seat, either forgot about me, or just did not feel like it – I would not be surprised. In addition, my seat is defective and cannot be brought into the lying position, the seat in front me can. Like a sardine in the can I feel during the whole flight. Fortunately, I do not suffer from claustrophobia. Every time the plane wobbles, I wonder if Pegasus is also cutting costs in aircraft maintenance. For the first time in my life I'm experiencing flight anxiety. None of the announcements I understand. It does not seem to be necessary to translate them into English if there is just one non-Asian-looking person on board. If this thing is about to go down, I won't even know it.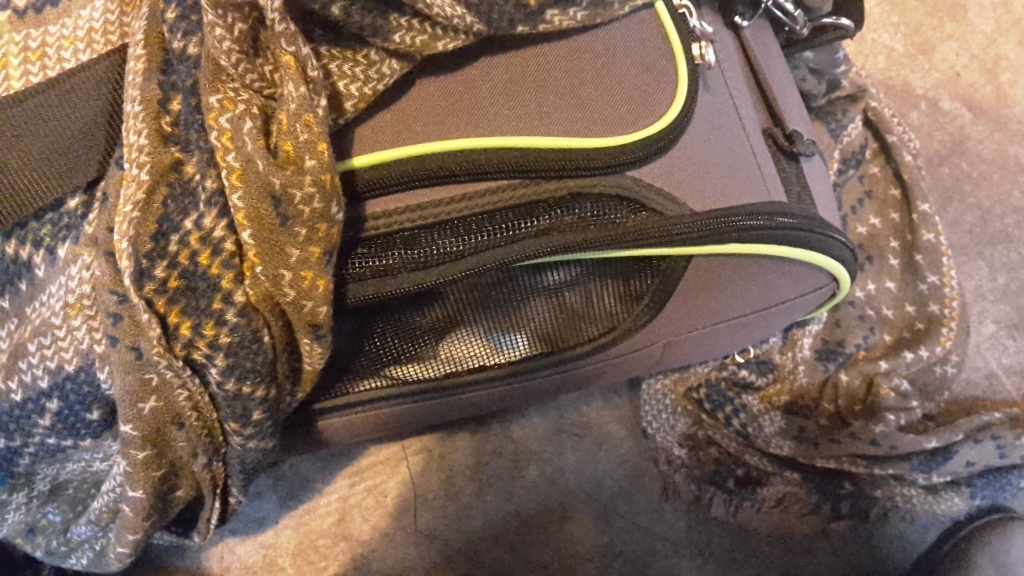 We are back at Sabhia Gokcen Airport. They set all the screens to the right time, now refusing to admit that the time displays ever were faulty. After all, I arrive at home as planned. What I now lack in nerves, I have gained in influenza virus. During the following week, I may contemplate my flight disaster lying in bed.
Wild horses couldn't drag me back into a Pegasus plane
Pegasus Airlines is indifferent towards my experiences. They did apologize for Mr. Oemer's impertinent behavior, but that's about it. The faulty screens are the responsibility of the airport, it says in the E-mail. The delayed passport control, for which the Englishmen were compensated, apparently were not the responsibility of the airport.
Due to my overall experience it is save to say that even wild horses couldn't drag me back into a Pegasus plane. The same is true for the Sabhia Gokcen airport. If only I had flown with Turkish Airlines. Retrospectively, I would have paid the same amount of money for better organization, more friendly service and less flight anxiety. Pegasus is the best example of where saving air fares leads us. Maybe we should rethink and be more appreciative of air transport providers. Perhaps then the "flyway to hell" can be avoided.