Karakol is one of the winter sports hot-spots in Kyrgyzstan. The town is located about six hours drive from Bishkek, east of lake Issyk Kul. There is a fairly large ski resort and several freeride options: besides snow mobile tours and horse lifts, ski touring is on the rise. All you need to do, is get in touch with the right people.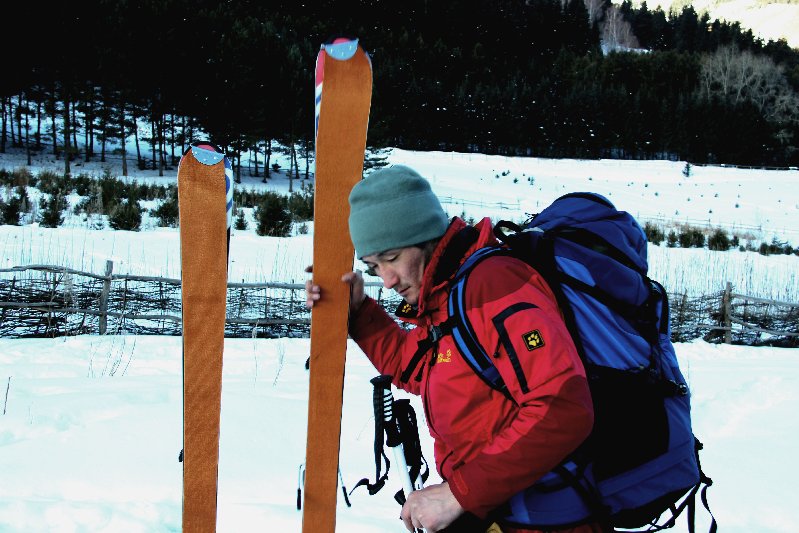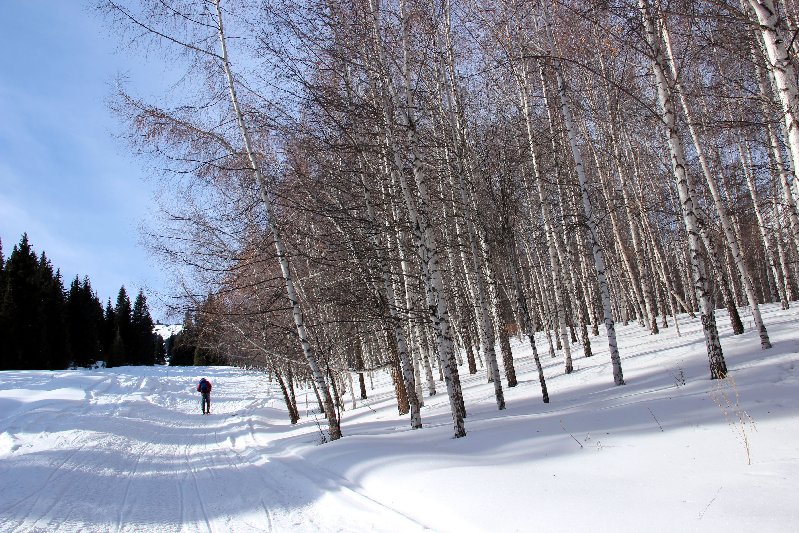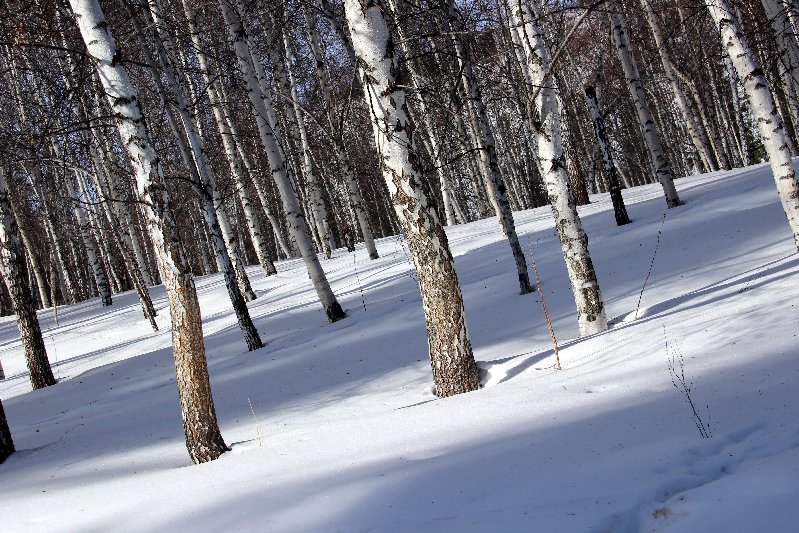 I met my Kyrgyz guide Anarbek via mutual friends. It was a spontaneous road trip to Karakol and I was very surprised to run into a local mountain guide. On top of that, Anarbek studied in the U.S. and speaks fluent English. He told me a lot about mountaineering in the area. Then, over drinks in a restaurant, we decided: "Let's go on a tour tomorrow!" Said an done.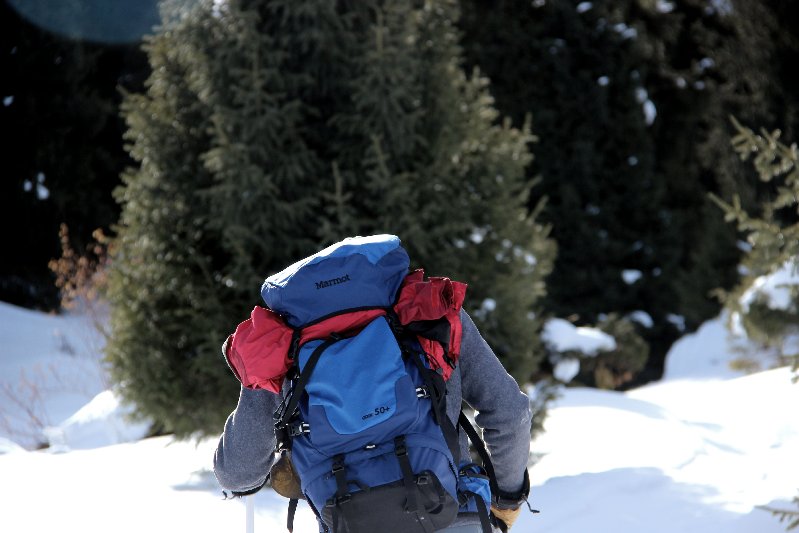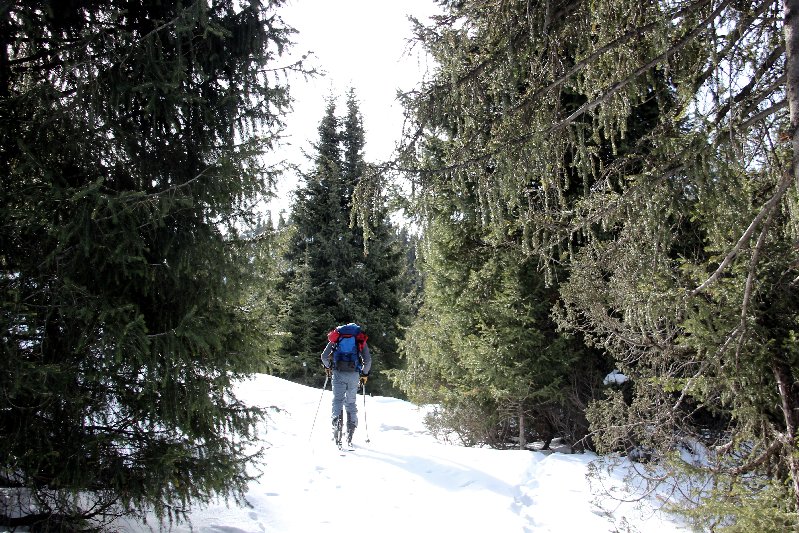 Gear, however, turned to be hard to come by. In the whole town of Karakol, there are just two pairs of touring ski for rent. The outdoor shop Extreme+Tour adjusted their price according to their exclusive position: 1500 Som (30 USD) per day. This is three times as much than normal ski rental costs. Travel Tip: BYO!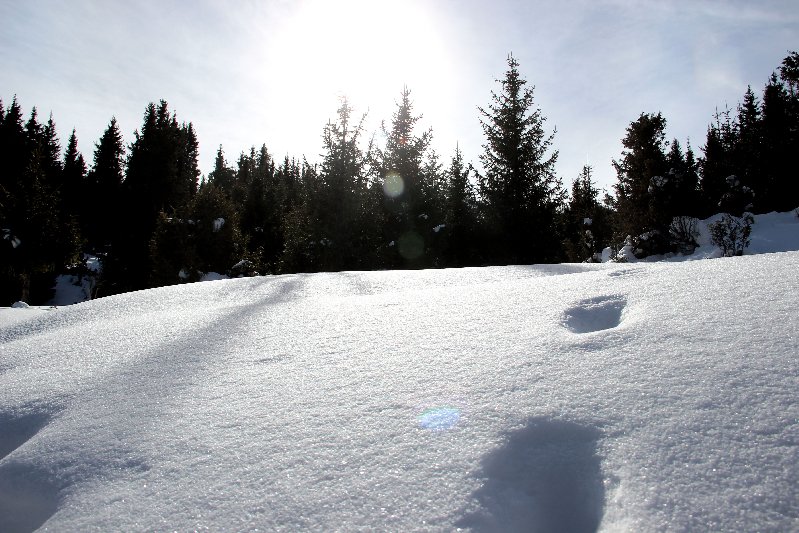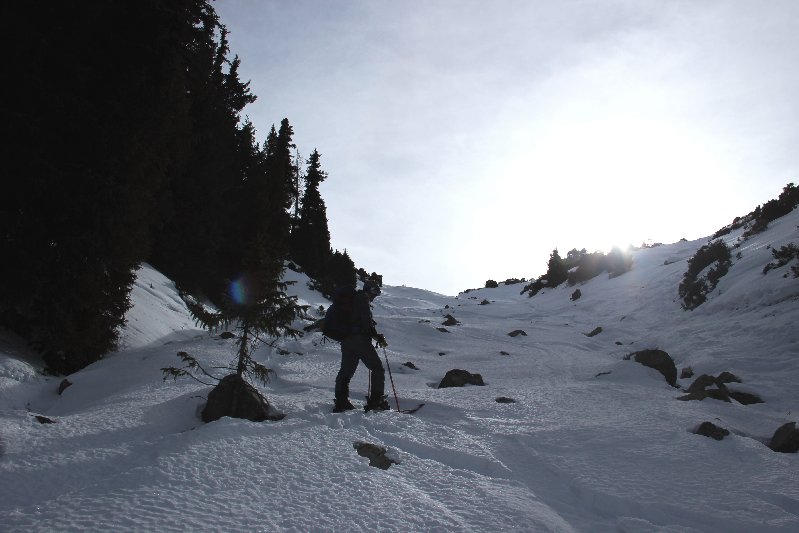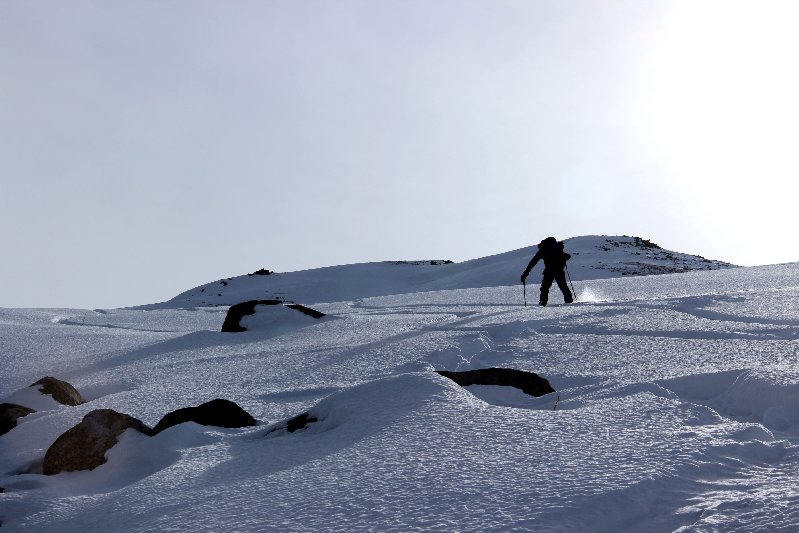 We start our tour at a village in the Karakol National Park. In the morning, it's freezing cold, but soon, the sun comes out and it feels like hiking in spring. We aim to get up to more than 3000 meters altitude. We only have to conquer a vertical height of about 600 meters, but it is spread out over seven kilometers.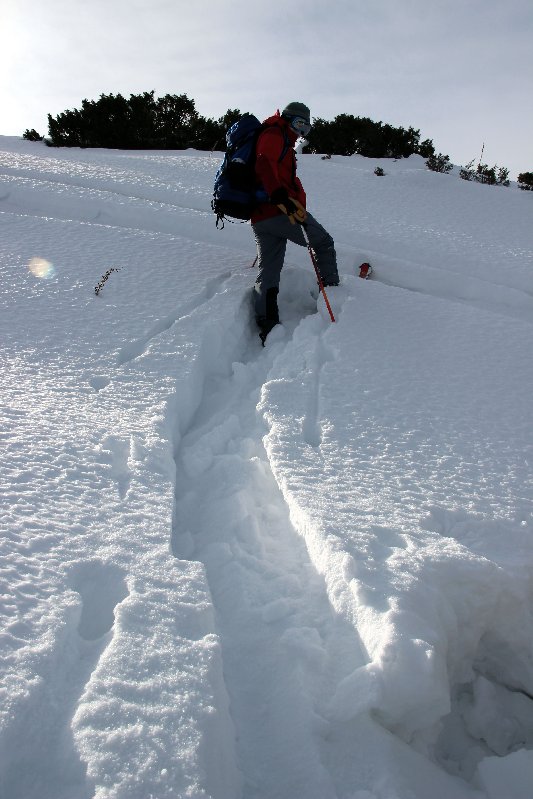 In the beginning, the trail is flat and leads through birch and pine forests. After we cross the bridge over a little river, we get to a jailoo. That is the Kyrgyz word for a summer pasture. In autumn, the herders move back to the valley. Now it is just a great wide plane. Anarbek shows me, where we are going: "It's the ridge behind the little forest over there." I take a deep breath. It looks like the steepest part is still to come and I'm not in a very good shape.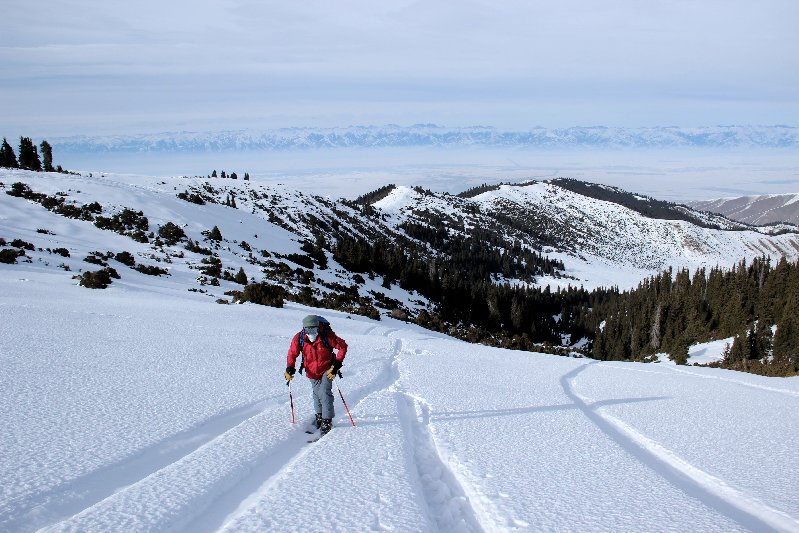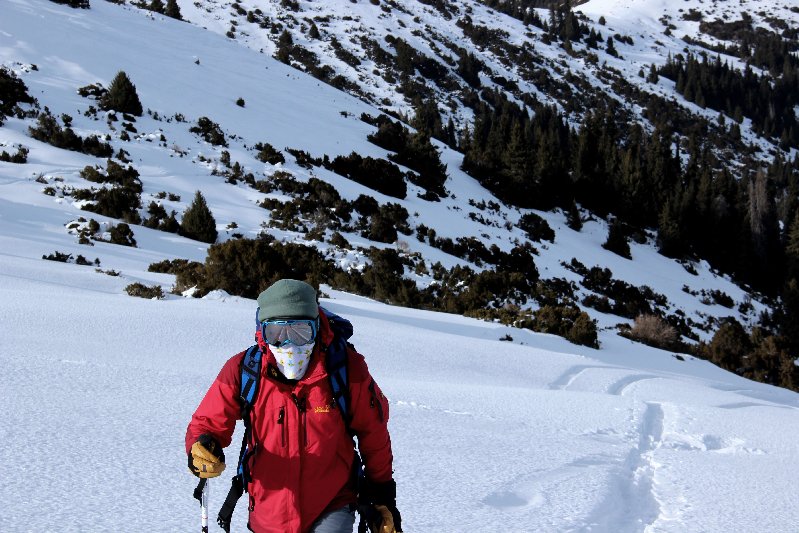 After a struggle getting past the rocky incline, powder heaven is unfurling. "If there'd been new show, it'd be perfect," I think to myself. We stop for lunch; I dismount my ski and sink into the snow up to my thighs. This wouldn't be the last time today that I have to dig myself out of the deep snow.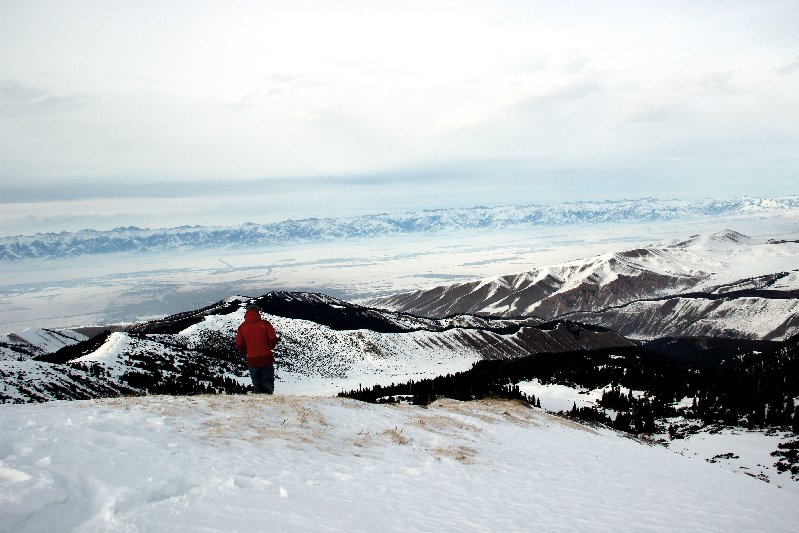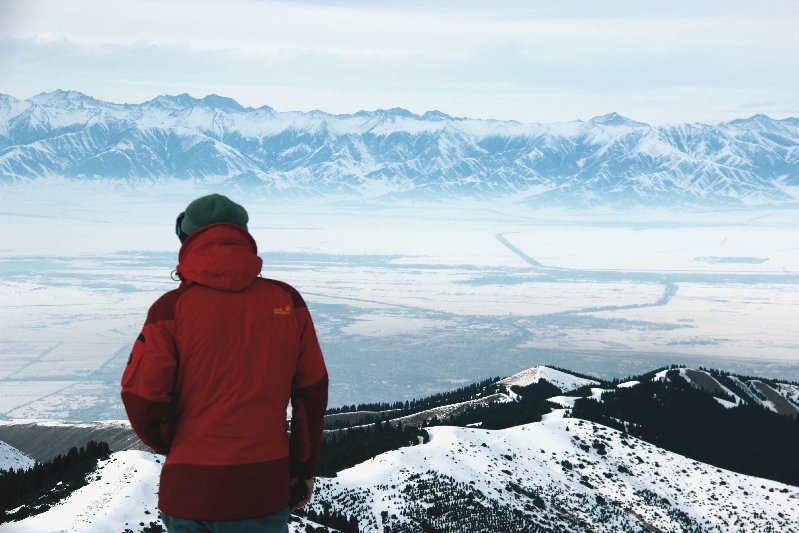 When we reach the ridge, I'm blown away by the view. You can see the Issyk Kul, wide and blue in the valley plane and behind it one of the Tian Shan mountain chains arises. "You cannot get enough of this," Anarbek says. We enjoy the landscape for a while and get ready for skiing down. I'm a new skier and powder is still a challenge for me. The next day my whole body hurts from digging myself out of the snow.