"To hell and back" was our hiking weekend's motto. "Wild Hell" is the name of a hiking trail that ended with a heavenly view. Although I've already heard of the Elbe Sandstone Mountains, I have to admit, it would not have occurred to me to go hiking there. Unfortunately, I am one of those people who believe, they have to travel as far as possible to see great landscapes. Luckily, every now and then someone shows me that I'm wrong. This time this someone was Lisa. I met her in Kyrgyzstan last year and you know her from stories like Sahid's farm.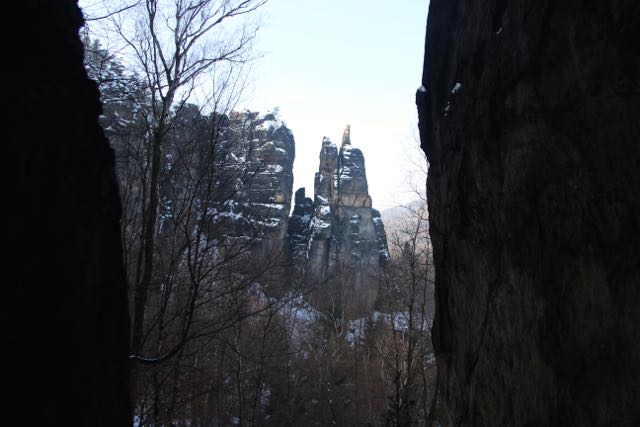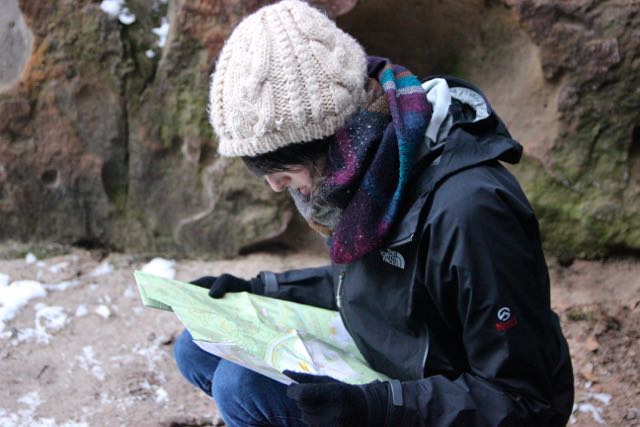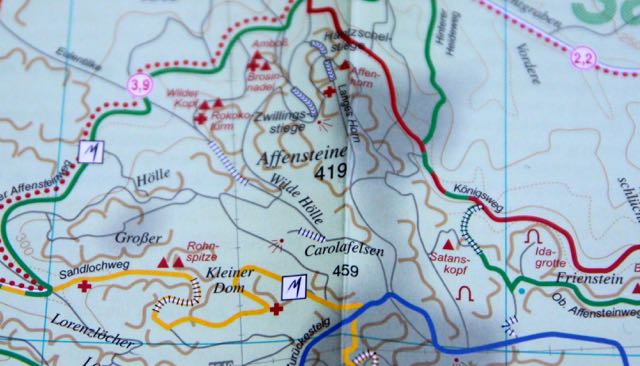 "Affensteine" (monkey rocks) is just one of the strange names for the even stranger sandstone formations in the Saxon Switzerland National Park. In addition, there is a whole family of "Schrammsteine" ​​(scratching rocks) including uncle, aunt and brother in law. Each one of the signposts that guide the way is evidence of the locals' creative potential. Also, many great artists have been inspired by the region's landscapes. Hence the name Malerweg (painters' trail) which is praised as one of the most beautiful hiking trails in Germany.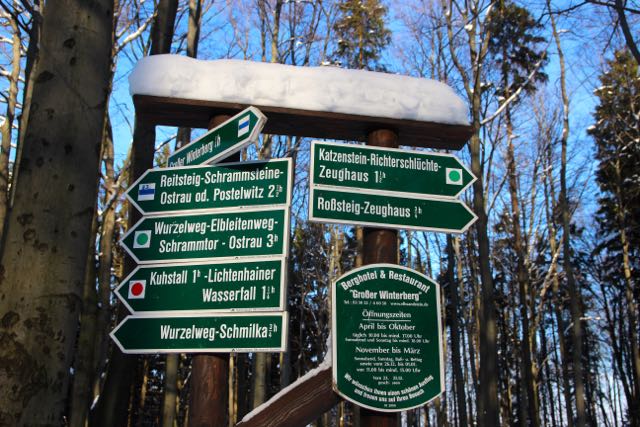 For hikers to enjoy the beautiful views, the rocks in the Elbe Sandstone Mountains have been equipped with stairs, ladders and via-ferrata-like constructions. Standing at the bottom, we are not sure if there is need for the typical via ferrata safety equipment. A local who we meet along the way, says, he usually takes his children up there without any safety stuff. After telling us this, he takes a different trail (!).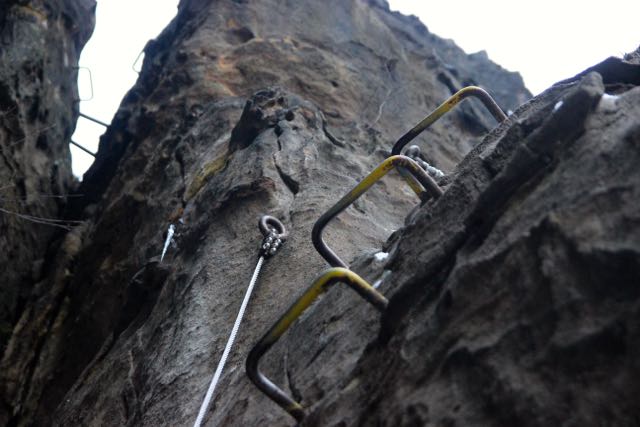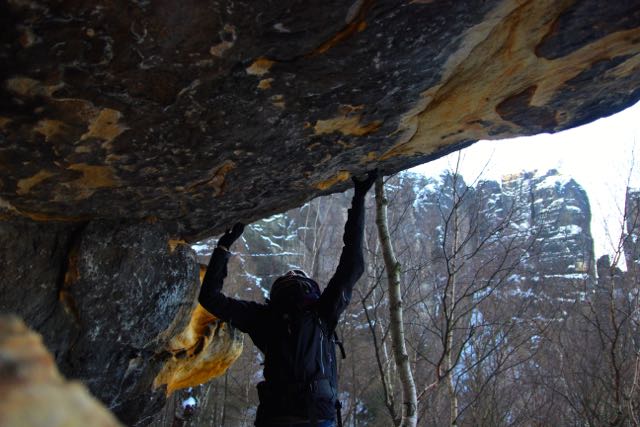 Briefing for rock climbers: There are more than 1,000 freestanding rocks that make the area a true climbing paradise. However, if you are not too much into free solo, there are a few things to consider when clipping your way up: friends and nuts are prohibited. In addition to the drilled hooks, only slings are allowed. The sandstone is softer than other rock types and gets damaged by metal. During rappelling, the rope must not run over the rock for this reason. Moreover, the use of magnesia is prohibited because it clogs the sandstone's pores making it too smooth for climbing.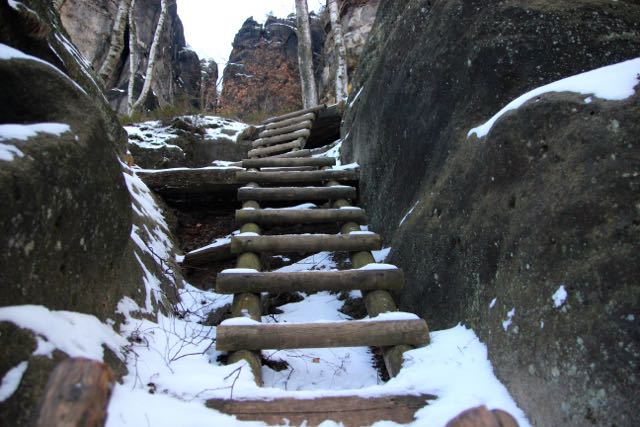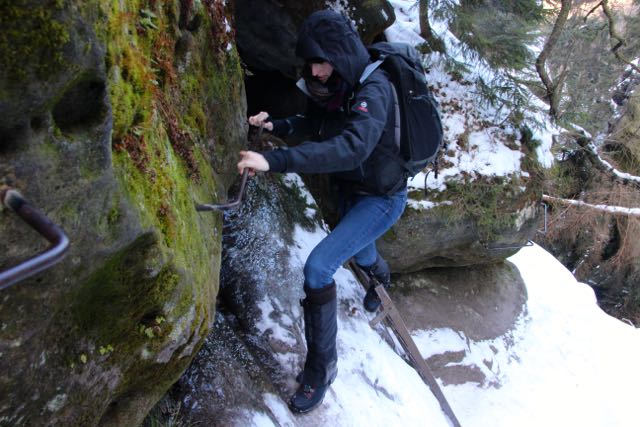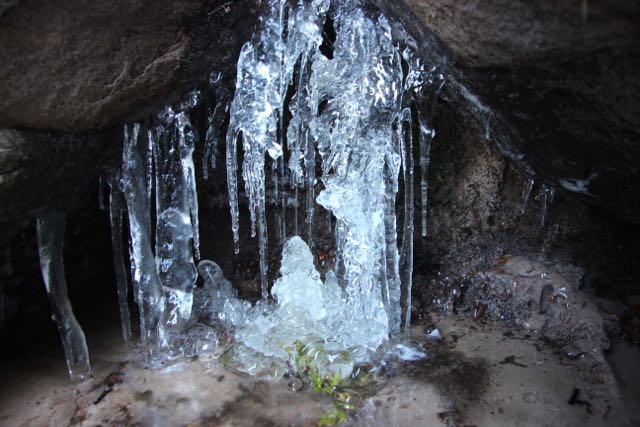 The great advantage of hiking in winter: There are very few tourists. Lisa has been to the region in summer. She says, she even had to queue when using the stairs up the rocks. The disadvantage of winter hiking, however, is that most stairs and ladders are quite icy and surefootedness is strongly required. Therefore, the ascents take longer than in summer.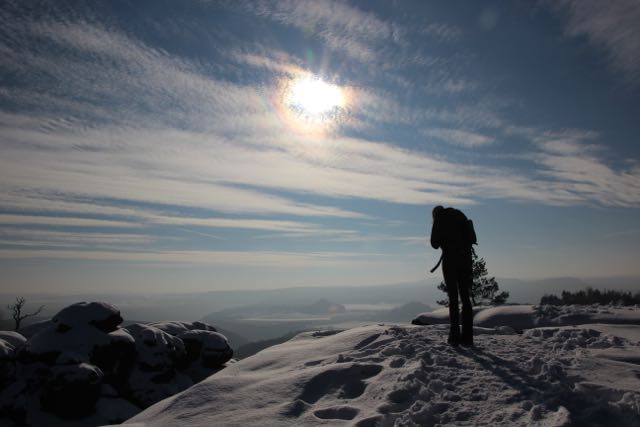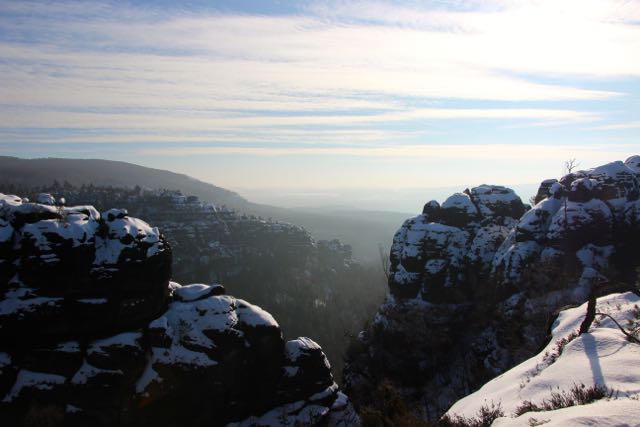 The climb is worth the while because the view over the Elbe Sandstone Mountains is gorgeous. You cannot enjoy it for too long though, because of the icy wind that blows on top. Is is also the reason, why we did a rain check on winter camping underneath a ledge. Instead we stayed overnight at the Ottendorfer hut. They have a hearty meal, a cold beer and an even cooler dormitory. While outside the winter winds are blowing, I jitter in my 0 degree Celsius sleeping bag, still glad about not beeing outside. In the meantime, Lisa is sleeping peacefully inside an expedition sleeping bag made for two-digit minus temperatures.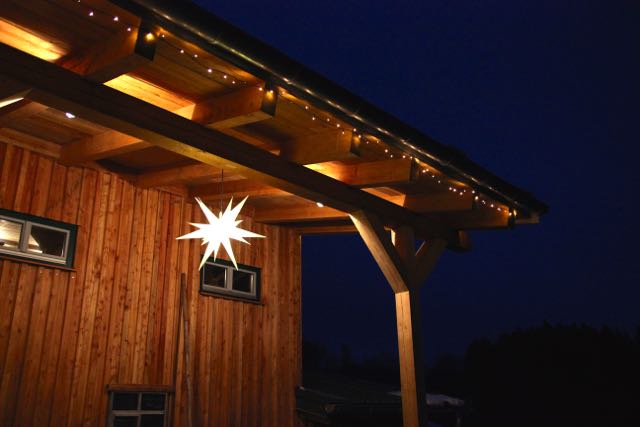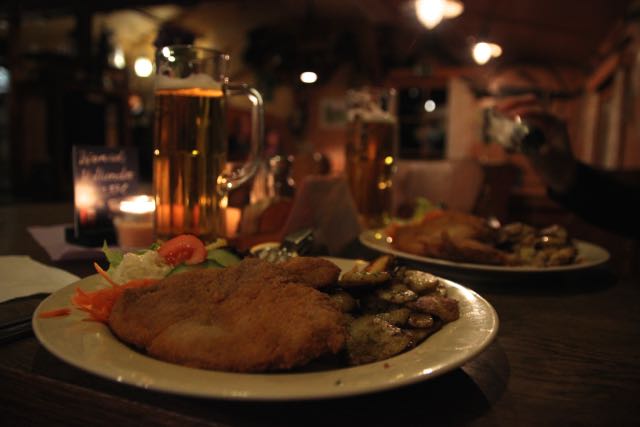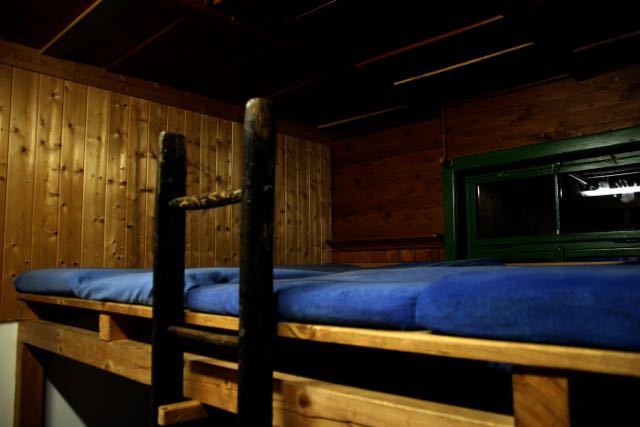 The next day starts out not so funny due to an annoying quest for a parking lot. When we finally find one, we realize that we are missing small change for the parking meter. On Sunday morning, the town of Bad Schandau is deserted, shops and restaurants are closed. This is another disadvantage when visiting during off-season. Eventually, we find free parking and soon we forget about the inconveniences. This is exactly how I imagine hiking in winter: snow sparkles from below as the sun shines from above.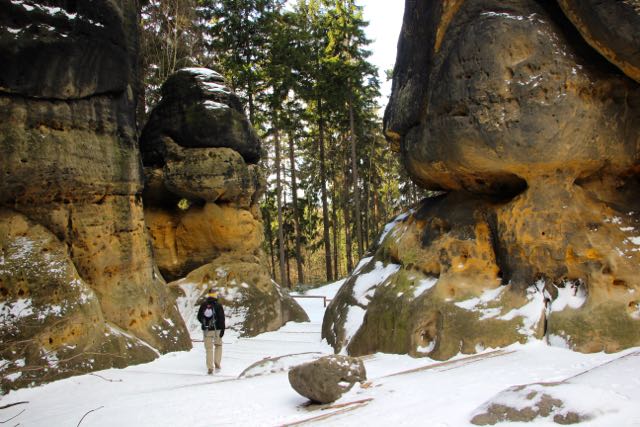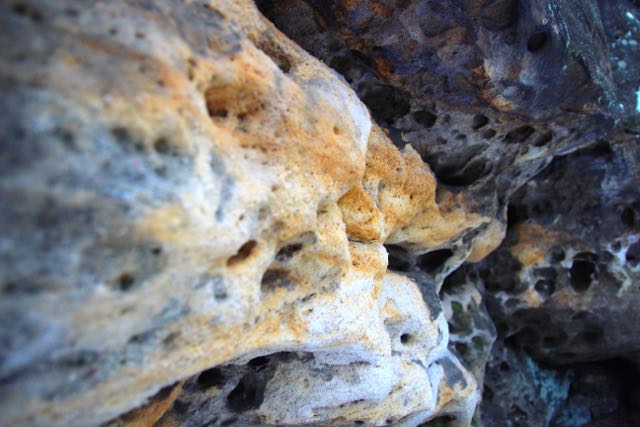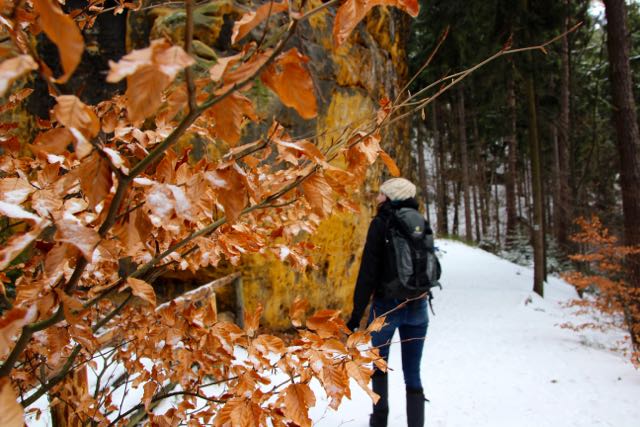 On our way to the scratching rocks (Schrammsteine)​​, we walk past great canyons and climb what feels like a thousand stairs. Again, the view makes it worthwhile. My conclusion: The Elbe Sandstone Mountains with their bizarre rock formations offer an unusual and beautiful scenery. Especially in winter, there is a lot of adventure potential, which makes it a great destination, ideal if you suffer from wanderlust, but don't have time for a long trip far away. The sandstones made ​​me curious and at some point I'd like to come back for rock climbing. Let me know if you are nearby and up for it.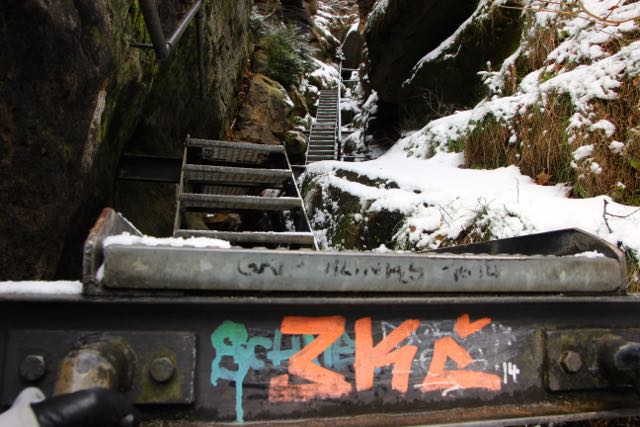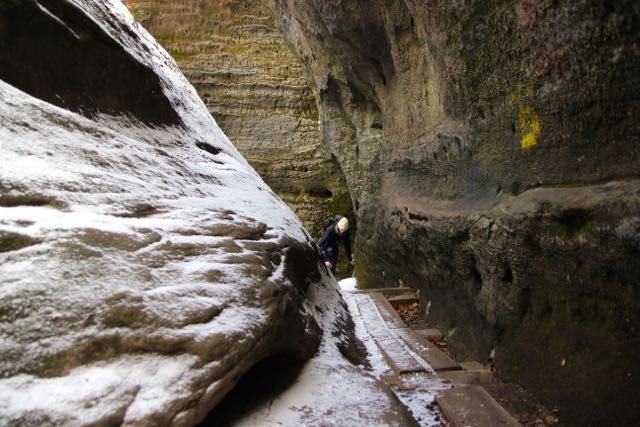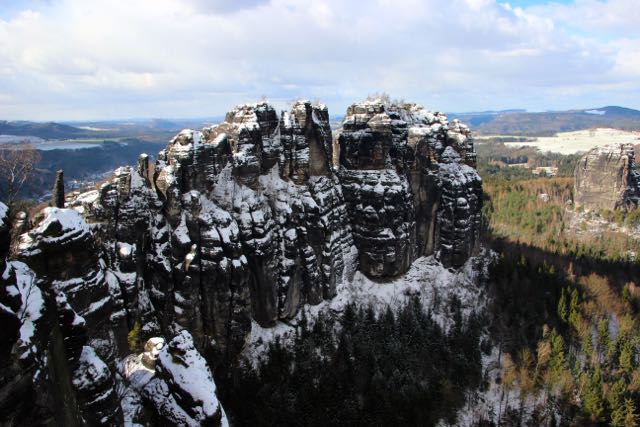 PS: a little piece of advice: In the town of Bad Schandau, there is a fixed speed trap on the road along the river Elbe. The speed limit is 30 km/h which can be easily missed because there is no obvious reason. So, keep an eye out for it.